Polish Contemporary Arts Organisation
—
Visual Identity
Print
The Polish Contemporary Arts Organisation is a newly established platform dedicated to promoting and exhibiting works by Polish artists living and creating in the UK.

I was asked to create visual identity for the organisation, depicting its contemporary spirit of modern art. PCAO organises regular events and I was also invited to design identity for the exhibitions 'Quality of Everyday Life', and 'Pop Maskulinity'.

Pop Maskulinity


—
Exhibition Identity

In the exhibition, eleven artists investigated the under explored subject of masculinity in the 21st century. They have done this via photography, painting, drawing, collage and sculpture the artists provokes a discussion on the status of men and meaning of masculinity in the contemporary world.
I have been working closely with PCAO to develop exhibition's identity, which consists of posters, leaflets, personalised invitations, social media assets and the exhibition's guide – printed brochure. The artwork used on the posters and front cover features one of the exhibition's pieces by Susanne Wawra.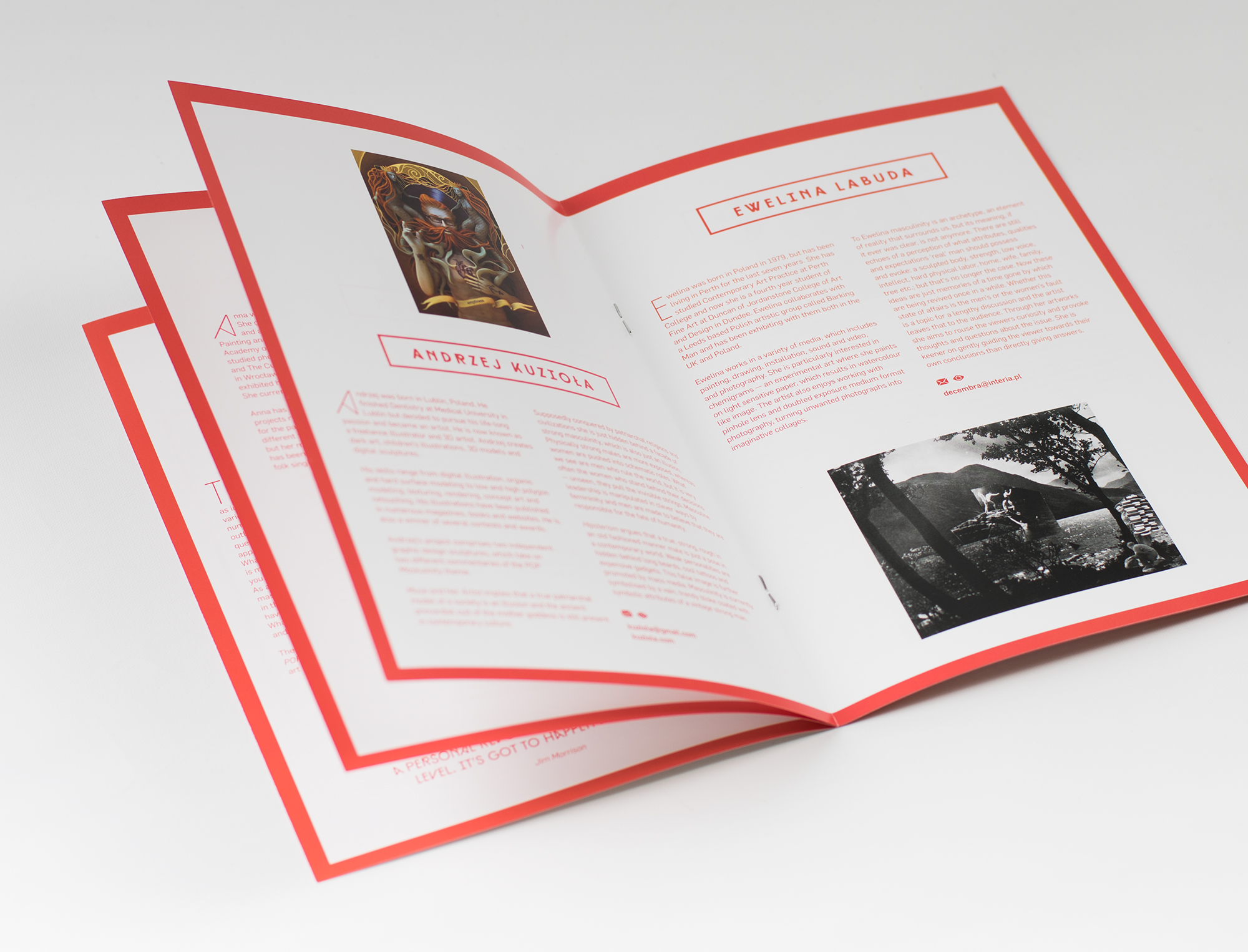 Quality of Everyday Life


—
Exhibition Identity
In this exhibition by the Polish Contemporary Art Organisation, fourteen artists and a collective of authors from the Interactive Writing Salon in Scotland explored the commonly unappreciated value of the ordinary day. Via photography, painting, poetry and installations the artists challenged the understanding of day-to-day life, which aren't commonly glamourised or even recognised as valuable in today's life.
I have been working with PCAO on the identity for the exhibition, and created elements such as posters, the main brochure, leaflets, invitations and the social media branding.

'I have always believed that creating a company's visual identity has to be an incredibly challenging task as it is the most valuable and long-lasting investment an organisation can make. In our case, the task was even more demanding because as a creative company, we were looking for a distinctive, unique and contemporary "piece of art" branding. Dawid delivered all that. His creativity and professionalism was exactly what we needed.'

Iga Bożyk Curator